A Simply Perfect Wedding Venue
Faria & I would like to thank you all for making our wedding day so perfect. The venue looked amazing but even more so, we were so please with how smoothly the day was managed and how friendly and efficient all the staff were. We have had so many compliments on the food and I loved my veggie Halloumi Salads—so compliments to the chef. Thanks again, we are so happy we chose the Oak Barn as our wedding reception venue.
The Oak Barn Restaurant & Bar is a charismatic building.
The original 250 year old barn has been lovingly restored using old oak beams, many of which were salvaged from the great wooden ships of Nelson's day and enhanced to create the perfect venue for your special day.  It boasts an open plan restaurant, bar and lounge areas which retain their beautiful old wooden beam decor.
The main restaurant can seat up to 150 guests for your Wedding Breakfast, and we can cater for up to 220 guests for your evening reception, with a variety of excellent menu packages to choose from to suit your requirements and budget.
Let our team of dedicated Wedding Organisers and chefs help you organise your dream day.  With extensive experience in planning and hosting weddings at the Oak Barn, you can be sure that we will help create a stress-free, fairy tale day, which ends with the happiest of ever afters.
Call Us Now on 01444 258222 
and lets start planning your day!

what we offer on your wedding day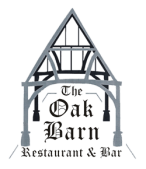 Selection of drinks on arrival
Canapés on arrival
Prosecco, Bucks Fizz and Orange Juice
Homemade and locally sourced produce
Talented chefs and professional waitresses
3 course formal sit down meal
Informal hot buffet
Selection of wine on tables
Prosecco/Champagne for toasts
Catering for special dietary requirements
Customised seating plans
Out-front seating for 60 guests
Sun trapped courtyard area for 60 guests
Inglenook fire place & lounging areas
Hot/cold buffet for evening reception guests
Evening Disco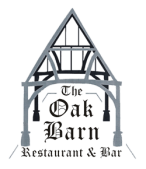 Seating in our main restaurant up to 120 guests
Ample space for up to a further 100 guests to attend the evening reception
Exclusivity & privacy
Large, spacious dance floor
Room for live band, DJ and other entertainment
Fully heated and under floor heating
Ample free parking
Disabled facilities available
Accommodation within a 5 mile radius
Florists & decorations more than welcome
Separate function rooms
MeMORABLE MOMENTS AT THE OAK BARN
Please feel free to pop in and meet our Wedding Organisers to discuss the plans for your wedding. We know that your wedding day, although great fun, can be quite stressful, and we can help ease the burden by assisting in your detailed plans and making any alterations required without fuss.
The Oak Barn Restaurant & Bar excels at creating wedding days that you and your guests will remember for years to come for all the right reasons.  We do everything we can 'behind the scenes' to make the magic happen, allowing you and your guests to focus on your momentous day and enjoy it to the full.
Thank you all for your hard work you showed in making our daughters wedding reception at the Oak Barn so special. The whole place looked lovely and the seating for so many people was very thoughtfully arranged. The food was enjoyed by all and we received many comments. The whole day went like clock work, even the weather was perfect!
More meMORABLE MOMENTS AT THE OAK BARN
FREQUENTLY ASKED QUESTIONS
How many people can The Oak Barn accommodate?
The main restaurant is ideal to seat upto 120 people, with a further 25 situated in the Cartroom. We can then accommodate for a further 40 in our bar area. For a less formal function, 250 is the maximum we can accommodate for.
After our wedding breakfast we would like to invite more guests for the evening. How best to cater for them?
For evening guests, we can provide a hot or cold buffet selection. All are treated with the same care and attention as the main meal and only the very best ingredients are used.
Can we hold a Civil Ceremony at The Oak Barn?
No, we are not licensed to hold the actual ceremonies at The Oak Barn.
What time can our party finish?
There are no set end times. Most finish at midnight, though some events end at 1.00am. Finish time is always by arrangement.
Can we bring our own alcohol?
Unfortunately, we do not allow people to provide their own alcohol.
Can you provide DJ's, Bands, entertainment, etc?
No, we don't, however, we can recommend some. You should make your own arrangements directly with them.
Does the venue charge include tables, chairs, glasses, cutlery?
The venue charge includes tables and chairs, the food costs include all glasses, crockery and cutlery.
Can cars be left on your premises overnight?
Yes, entirely at the vehicle owner's risk, and free of charge.
Do you attend every event personally?
Amy & Chris are our wedding co-ordinators, they will be attending every function.
Do we need a Toastmaster?
On balance, the answer is usually yes. We will agree a detailed running order for your event and Amy and Chris makes sure that timings are adhered to.
Can you cater for special diets?
We regularly cater for vegans, vegetarians, gluten free, diary free, allergies and special diets. We simply need to know in advance what the requirements are and who they are for.
How much does it cost to hire the venue?
Cost depends on four main factors, the time of the year, the day of the week, what food options you would like and the number of guests. This can be fully discussed with you during a meeting with one of our wedding coordinators.
How does the venue cost compare to renting a marquee in our own garden?
It is almost invariably much less expensive to hire The Oak Barn than erect a marquee in your garden. It is certainly a lot easier on the hosts to be at The Oak Barn where every last detail is taken care of, including the clearing up which is a job that should never be underestimated!
Can I have a winter wedding? Are you open all year round?
The Oak Barn Restaurant is open all year round and winter weddings are very popular indeed. Obviously, the use of the Courtyard and Patio areas are usually not practical but the lounging areas with our huge inglenook fireplace and our Cartroom can be used for canapés and drinks.
Can I hold a wedding reception on other days of the week, not just Saturdays?
Yes, Fridays and even midweek weddings are becoming more and more popular.
Are children welcome at the venue?
Children are very welcome in The Oak Barn Restaurant. There is a Golf Putting Green and Driving Range which can be used by guest's children, under the parent's supervision and at their own risk.
What happens if the weather is too wet to have drinks and canapés in the garden?
We set up the arrival drinks in the lounge area which is situated in the main bar.
Can buses and coaches access the venue?
One of the advantages of The Oak Barn s that there is easy access for large vehicles throughout the complex. Buses and coaches have plenty of room to manoeuvre.
Are there any noise restrictions?
Within sensible limits, no, none.
Can we dress the venue to theme it, 'Alice in Wonderland' say?
Yes. We would like to be kept informed of your plans and how they might impinge on our buildings.
Can you recommend overnight accommodation for guests?
Yes, we can recommend accommodation within a 5 mile radius.
Do you have set menus?
Yes, we have a banqueting menu which we provide for all of our weddings. There is a variety of choice suitable for all ages and tastes.
Do you insist on us using specific suppliers, florists for example?
Absolutely not! You may use which ever supplier suits you, however we can help to recommend people if needed.
I want to use a wedding organiser, is that OK?
It is, but unless you want a complicated themed affair, it is probably not absolutely necessary. Mark & Dan have lots of experience that you may freely tap into and are always pleased to advise.