Make a Reservation Today 01444 258222
Win Dinner for Two!..
Our fortnightly winners will receive an A la Carte Starters for Two plus Main Meal and Bottle of House Wine!
Two Courses Just £13.50..
A fabulous selection of starters and main courses available Monday to Thursday lunch and evenings. Two Courses just £13.50. 

American Night at The Oak Barn!
Join us at The Barn Thursday 25th September for an American Night Dining Experience! Great fun with an American Menu!
Christmas at The Oak Barn 2014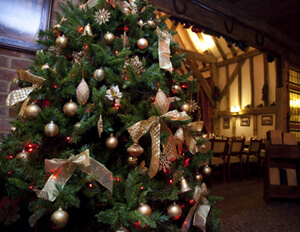 Join us at The Oak Barn for Christmas & New Years Celebrations! A very busy time so please book well in advance!
View Gallery
Summer Special Offers!
Nice cosy atmosphere, good service and cheerful staff
Mrs New
Booked a table for a family Easter lunch and really enjoyed …
Steve_Amy
we've had a wonderful Sunday Lunch with service to match
Mrs Wilson
Very impressive. An enjoyable experience. Keep on doing what…
Mr Hodson
Its a real treat. Consistently good!
Mrs Simmons
"Good food in cosy setting"
welovegoodservice
We can honestly say we have NEVER had a bad meal here. The s…
John R
I went to the oak barn with my family for Mother's Day and w…
Leanne Funnell
Beautiful Venue. Friendly and helpful staff, great atmospher…
Mr Robertson
Excellent Sunday roast was had by the four of us. Between us…
Markywmark